Welcome to 1SB!
Hello, and welcome to our class page. We are really looking forward to an exciting year of learning ahead of us. Please check this page regularly to see what your children have been up to in class and find out more about the topics that we are enjoying each term. Please feel free to come and discuss any queries or concerns with us - our door is always open!
Home learning
All children in the school are rewarded for reading and for learning at home. They will receive a merit every time they read, complete some homework, go to clubs after school or out of school and it is recorded in their log. There are ideas in our learning leaflets on things you can do with your child at home to support their learning . Just make a note in their Home Learning/Reading Record logbook so we can reward all their hard work. These merits are then translated into 'Dollars' to spend in the Homework Hut each half term. The more 'Dollars' you earn the better the items you can buy!
15 merits = Bronze
20 merits = Silver
25 merits = Gold
We are aiming to achieve a full house of Gold Dollars EVERY TERM this year, we can do it but only with your support at home 
INFORMATION ABOUT THE LANGUAGE UNIT
Summer Term – 'It's a Wonderful World'
This half term we have been super busy already! We have been learning all about recycling using our class book: 'Michael Recycle'.
We have made a garden centre role play area that includes a recycling bank. We are very good at recycling at school – are we recycling at home too?
As part of our topic we are looking after the school strawberry patch. Last year we got a bumper crop so fingers crossed for this year!
We will be continuing to learn about plants into next half term. Keep an eye on here for photos of all our 'green fingered' activities.
Planting two new strawberry plants
Spring 2 - All Creatures Great and Small
This half term we are continuing our topic of 'All Creatures Great and Small' but this time with a focus on the smaller animals. We will be learning about and hunting for minibeasts. Please see our learning leaflets for Spring 2 for more information about our learning.
We have already had a busy start to this half term with World Book Day, Book Snuggle Days and British Science Week. For British Science Week the theme was journeys. We learnt about the journey the Wright Brothers went through to invent the first powered plane. We then made our own gliders and tested them to see how far they could fly. We had lots of fun flying our gliders but also practised our newly learnt measuring skills and used our flight data to answer questions and make adaptations to our aircrafts. See below for a few photos of all our fun.
World Book Day
Art inspired by Martin Bulinya
We have been looking at the fantastic art work of Martin Balinya. He was born in Kenya, Africa. His pictures mainly show the Maasai people who live in Africa. The people in his pictures take on dramatic poses. You can almost see them moving!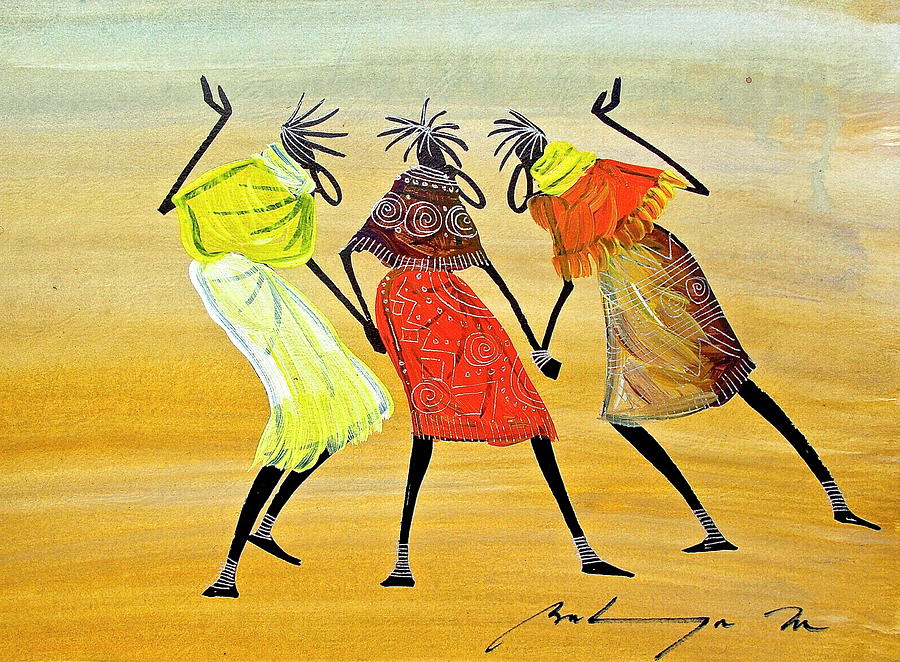 Topic Signs
Here are some new topic signs. We hope you like them.
Cheetah, monkey, snake
elephant, tortoise
forest, tiger
world, drum
An Exciting Day!
Today was an exciting day for 1SB! We had a treasure hunt! We followed clues and found lots of interesting objects like a drum, a basket, a flag and lots more! We tried to use the objects to guess what our next topic will be about. We guessed it might be about Africa and decided to look in a book to find out what country the flag belonged to.
Finally we found our new special book called 'The Leopard's Drum'. It is a story from Ghana in Africa. Our new topic is called 'All Creatures Great and Small'. There are lots of animals in our story.
This afternoon we all worked together to create our new role play area. It will be a jungle themed cafe. It is nearly finished and we are super excited about playing and learning in there! Look out for more photographs when the cafe is finished.
New Year, New Topic!
Happy New Year from everyone in 1SB. This term our topic will be 'All Creatures Great and Small'. Our focus text will be 'The Leopards Drum' by Jessica Souhami, a traditional tale from West Africa. Please see our 'Spring 1' learning leaflets for information on our learning.
Merry Christmas from all in 1SB. We hope you have a lovely holiday with your families and look forward to hearing all the children's news when we return in the New Year.
Here is a little clip of our class Christmas song that we performed to the rest of the school on Friday 21st December. Such fantastic singing and signing! Super proud of 1SB, you all did so well!
Christmas Alphabet Song
Soup for the Wolf!
We had a letter from the wolf asking for a soup recipe. The wolf wants to make some vegetable soup to keep him warm in the Winter. We chose our own vegetables and tested out the recipe by making the soup. It was yummy! We wrote out the recipe for the wolf.
Forest Fun!
One day at the beginning of this half term we found footprints in our classroom. Wefollowed them into the forest. There we found a duck, a frog and a squirrel. Where had they come from? Why were they in our forest? Later we found a book 'Footprints in the Snow' and our learning adventure began!
Thank you for collecting for Children in Need Day. We made Pudsey sparkle!
Winter Wonderland
This half term our topic is called Winter Wonderland. We will be learning about cold regions in the world (the Arctic and Antarctic) - where they are and which animals live there.
Our focus book for English is 'Footprints in the Snow' by Mei Matsuoka.
Roar!
This half term our new topic is all about dinosaurs. We will be reading the story 'Happy Hatchday' by Rob Biddulph and learning about dinosaurs using a variety of non-fiction texts.
Can you find out some interesting facts about dinosaurs? How many dinosaurs can you name?
Roar!
On Monday we found two strange eggs with a note saying 'Please look after these eggs'. We made a nest to keep the eggs safe and decided to say kind words to them so whatever was inside felt safe and happy. It worked because on Tuesday the eggs hatched! Guess what was inside - 2 baby dinosaurs! We have decided to find out about dinosaurs this half term and our new topic will be called 'Roar!
Signalong
In 1SB we use Signalong to accompany our verbal communication. When using signalong you speak and use the sign at the same time. All the children in the class know key signs and it is part of our everyday routine. If you would like to use sign to support communication at home here are some videos of a few signs we use in school. Please let us know if you would like to learn any other signs that would be useful to use with your child at home. We will add video clips of more signs as the school year progresses and upon request. 
We hope you find signalong a useful tool!
Good morning, good afternoon
Name sign for Joshua
Name Sign for Fabian.mp4
Name Sign for Tayla.mp4
Name sign for Lennon
Name sign for Isla
Name sign for Sonny
Name sign for Hayden
Name sign for Liam
Name sign for Jack
Name Sign for Noah
Family
Girl, boy, friend
Look, listen
Wait, stop, finish
Yes, No
Help
Toilet
Both, same
More, less
Jumper, shoe, coat
Cake, biscuit